CUHK MPhil/PhD Virtual Info Week 2023 (25 Oct - 31 Oct 2023)
The Chinese University of Hong Kong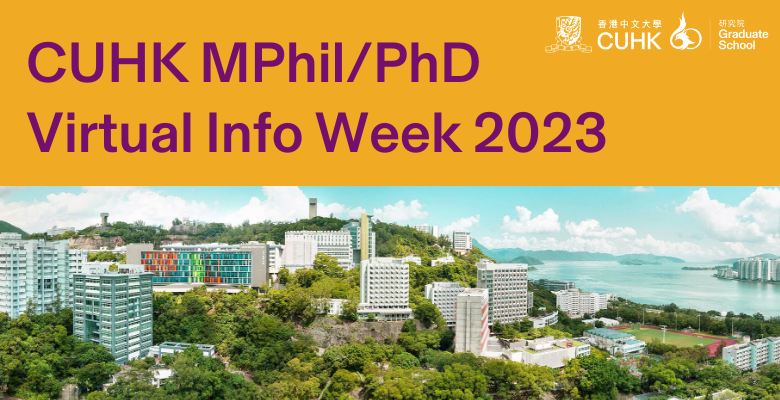 Join us in Exploring the Unexplored at the CUHK MPhil/PhD Virtual Info Week (25 Oct – 31 Oct 2023)

Are you ready to take your research career to new heights? Look no further than CUHK where exceptional opportunities await you!

From 25 Oct to 31 Oct 2023, the CUHK Graduate School is hosting the CUHK MPhil/PhD Virtual Info Week 2023, a one-of-a-kind opportunity for aspiring researchers from different parts of the world to explore our vibrant academic community and the transformative potential of our MPhil/PhD programmes.

Throughout the week, our Faculties will be hosting different information sessions tailored to your academic interests. Participants will also have the chance to learn more about the learning and research resources at CUHK as well as the scholarship information, including the Hong Kong PhD Fellowship Scheme (HKPFS) of up to HK$1.72 million/US$221,000, which covers the tuition fee, monthly stipend, conference and research-related travel expenses, etc.

Delve deeper into your chosen field, meet and learn from aspiring professors and current students, and explore the transformative potentials of the CUHK's MPhil/PhD programmes. For more details and registration, visit https://www.gs.cuhk.edu.hk/admissions/admissions/mphil_phd_info_week.

Mark your calendar for 25 Oct – 31 Oct and get ready to embark on an exciting journey towards academic excellence at CUHK!
Highlights of the CUHK MPhil/PhD Virtual Info Week:
Introduction of the MPhil/PhD programmes at CUHK
HKPFS, scholarship, financial support and research resources at CUHK
Faculty information sessions
Sharing from Professors, students and alumni