Join HKUST Information Session on MPhil & PhD Studies (26 Oct 2022)
The Hong Kong University of Science and Technology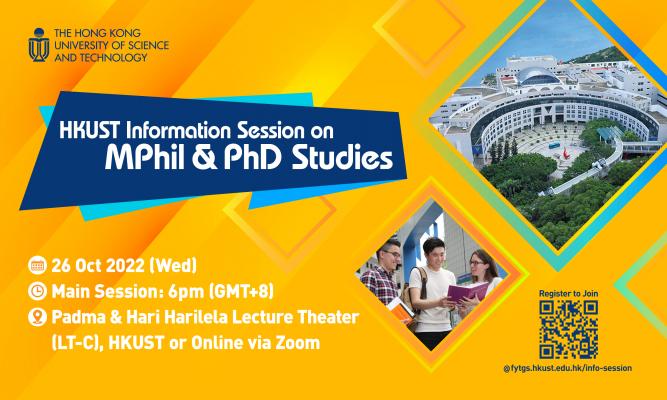 Come join this Information Session on 26 October 2022 to learn more about:
The benefits you will gain from studying research postgraduate (RPG) programs
Why choose HKUST to pursue your MPhil or PhD studies
How HKUST will put you onto a promising path
The latest development of HKUST and HKUST(GZ)
First-hand experience from our international RPG students
 
Rundown:
Main Session
Introduction of RPG Studies at HKUST and HKUST(GZ) by Prof. Charles NG, Dean of HKUST Fok Ying Tung Graduate School and Vice-President for Graduate Support of HKUST(GZ)
Sharing from our International RPG Students/Alumni

Ms Xiao ZHAO from the Mainland China, PhD Student in Finance
Mr Swapnadeep PODDAR from India, PhD Graduate in Electronic and Computer Engineering
Ms Ellice Dane ANCHETA from The Philippines, MPhil Graduate in Environmental Science, Policy and Management
Time: 6:00pm (GMT+8) Check your local time
Delivery: In-person at Padma & Hari Harilela Lecture Theater (LT-C), HKUST, Clear Water Bay, Hong Kong (map) or Online via Zoom
*Seats for the in-person delivery are limited following precautionary measures under the pandemic situation and will only be available on first-come-first-served basis.
Breakout Sessions
Program-specific Details on Different Disciplines (Learn more from our Program List)
 
Time: 5:00 - 6:00pm (GMT+8) Check your local time
 Time: 7:00 - 8:00pm (GMT+8) Check your local time
School of Science
HKUST Business School
School of Humanities and Social Science
Interdisciplinary Programs Office
 
Individual breakout sessions may be available in face-to-face mode only. Please stay tuned at https://fytgs.hkust.edu.hk/info-session for the latest information.