HKUST Information Webinar - MPhil and PhD Studies
The Hong Kong University of Science and Technology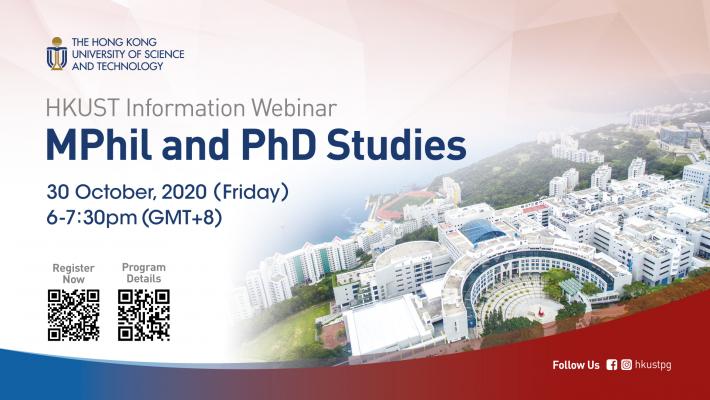 Date: 30 October 2020 (Friday)
Time: 6 – 7:30pm (GMT+8)  Check your local time
Delivery: Online via Zoom
 
Come join this Information Webinar to learn more about:
the benefits you will gain from studying research postgraduate programs;

why choose HKUST to pursue your MPhil or PhD studies;

how HKUST research postgraduate programs will put you onto a promising path;

the latest development of HKUST(Guangzhou) and admission to Guangzhou Pilot Scheme; and

information about program, admission and scholarships.
There is a limited quota on a first-come-first-served basis. Register Now to Secure a Place!

 
Fok Ying Tung Graduate School
The Hong Kong University of Science and Technology
Enquiry: http://pg.ust.hk/enquiry
Website: http://pg.ust.hk